Aromatherapy Newsletter: Winter 2019
Winter Harvest News, 2019
Dear Friends and Family
Every year around the time of the Winter Solstice, we wild craft boughs for an event at Desert Star Community School (a K - 8 Waldorf-Inspired Charter School) called the Winter Spiral Walk. It is a beautiful ceremony that takes place in the evening, where the children quietly walk into a spiral of boughs placed on the floor, light a candle at the center, and then place it in the spiral on their way out. By the end of the process, the room is filled with the soft glow of candle light. The event symbolizes turning inward during the darkest time of the year, and cultivating our own inner light. We distill the needles from the boughs the next day, and the oil always has an extra sweet and wonderful radiance. We keep track of our yields of essential oil, and have found that the yield from the spiral walk needles tends to be slightly higher! White Fir (Abies concolor) oil is amazingly pain relieving and anti inflammatory. It is exceptional for massaging out sore muscles and relieving ligament, joint and even bone pain. We are happy to be able to share this blessed oil.

Special Edition Winter Spiral Walk
White Fir Essential Oil

Winter Spiral Walk
Desert Star Community School
Purchase Winter Spiral White Fir Essential Oil here
Keep Sedona Beautiful: The 40th Annual Native Plant Workshop
Saturday, April 6th, 2019
The Medicine All Around Us (Maximum of 20) In this presentation, we will be discussing the essential oils, chemistries, therapeutic actions and doctrine of signatures of six native aromatic plants, which are on location. Mexican Arnica (Heterotheca subaxillaris) and Conyza (Conyza canadensis) have "volunteered" in the VVS community garden. Others such as Snakeweed (Gutierrezia sarothrae), Pinyon Pine (Pinus edulis), Utah Juniper (Juniperus osteosperma) and Arizona Juniper (Juniperus arizonica) are all found in the immediate area.
---
Returning to Jamaica
Clare will be returning to Jamaica in April, to further the process of obtaining a distillation system that is available for community use. It became very clear on the first trip there that many farmers, cottage industries, bee keepers, massage therapists and health care professionals are interested in distilling and using essential oils from their own crops, or local plants and trees. EOs are very expensive in Jamaica and not affordable to the majority of the population. It is our hope to make high quality essential oils accessible to anyone who wishes to add to their health and prosperity! BTW, PhiBee Aromatics will be closed from April 8th - 18th.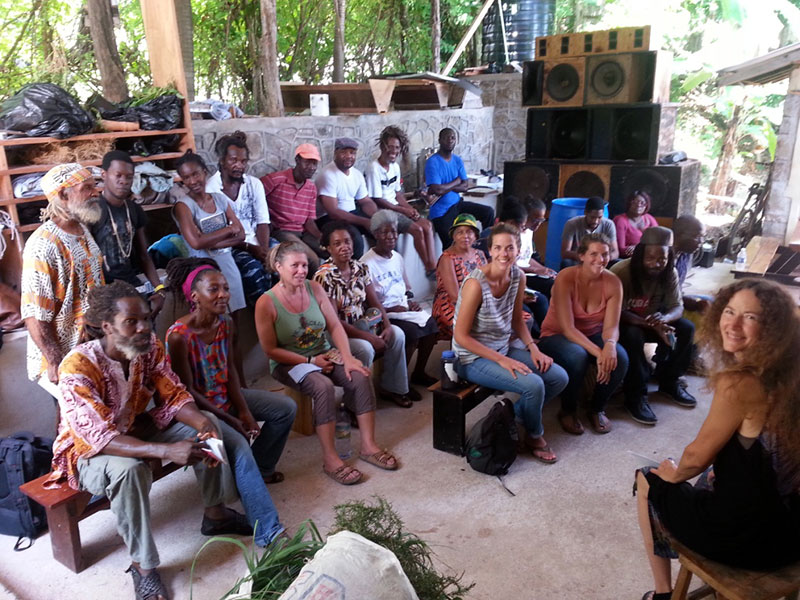 First workshop at Yerba Beuna Farm
---
Upcoming Aromatherapy Workshop
Sedona Retreat!
May 19th – 24th, 2019
We will be partnering with the New York Institute of Aromatic Studies for our 4th annual Sedona Retreat, from May 19th – 24th, 2019.  It has been a pleasure and an honor to work Amy Galper and Jade Shutes to provide this retreat.  We have had wonderful groups of people and fantastic experiences each year.  This year we will have the award winning El Portal Inn, for our accommodations, which is in walking distance to great restaurants, shopping and even PhiBee Aromatics distillery!
About our Workshops
We offer public and private events, ranging from 1/2 day presentations, up to 4 day hands-on distillation workshops.
Private events can be tailored to meet the particular interests of your group or organization.
We also offer weekend apprenticeships.
Please contact us for more information!