Essential Oils: Desert Lavender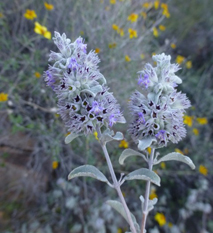 Desert Lavender (Hyptis emoryi)
Gathered in the Sonoran Desert. Also known as Bee Sage, but it is neither a true Lavender or a Sage. The Bee's do love it however, and it has an aromatic note of honey. This plant has been used traditionally (herbally) for menorrhagia, and all forms of irritation including insomnia, anxiety, gastric ulcers, acid reflux, and insect bites. This complex and non toxic essential oil contains 166 constituents, and is wonderfully soothing to both the nervous system and the skin (see Articles). Hemostatic, tonifying, sedating, anti microbial, and skin healing.