Essential Oils: Firs
Firs naturally share many therapeutic properties. For example, they are all helpful in treating respiratory complaints. Their chemistries are unique however, which not only shapes their aromatic characters, but highlights various healing qualities.


Arizona Corkbark Fir (Abies lasiocarpa var. arizonica)
This fir has been documented in only two high altitude (9,000+ elevation), isolated areas of northern Arizona. The aroma is balsamic and fresh, with an incomparable sweetness. It's therapeutic properties are anti-inflammatory, antispasmodic, cns sedative, analgesic, mucolytic, antiinfectious and tonifying. Excellent diffused in a room as a sleep aid, and for a spastic cough.
---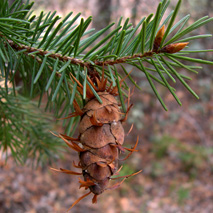 Douglas Fir (Pseudosuga Menzesii)
Gathered mainly on the Mogollon Rim, Coconino National Forest (7,500+ elevation). This ʻChristmas tree' smelling fir has distinct tangerine and vanilla overtones. It is a strong mucolytic, with anti-inflammatory, antioxidant, anti-infectious, analgesic, antispasmodic and tonifying qualities. Helpful for respiratory congestion, either by steam inhalation or added to a chest rub.
---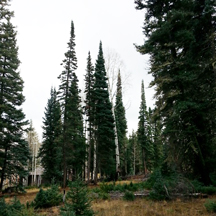 Sub Alpine Fir (Abies lasiocarpa var. lasiocarpa)
Gathered at 9,000 ft. from the Kaibab National Forest.  The aroma of the whole forest is contained in this oil.  It is coniferous, earthy, mossy, and very sweet.  Supportive for the respiratory and endocrine systems, analgesic and calming.
---
White Fir (Abies concolor)
Gathered mainly on the Mogollon Rim, Coconino National Forest (7,500+ elevation). This fir has a very fresh, clean, clear scent, that is quite distinctive from the other firs. Wonderfully analgesic, anti-inflammatory, anti-infectious, antifungal, mucolytic and tonifying. Can be diluted and applied topically for bone and ligament pain.