Clare will be out of the office July 12th - 21st. All orders placed during this time will be filled immediately upon her return.
Blue Spruce Essential Oil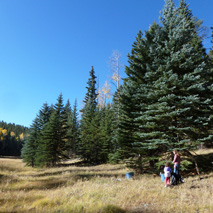 Spruce, Blue (Picea pungens)
Our Blue Spruce Essential Oil is gathered on the Kaibab Plateau, near the North Rim of the Grand Canyon (8,500 ft.). The aroma is bright with fruity overtones that have been likened to passion fruit. A large number of constituents also give this oil a broad range of benefits. Antiviral, anti-inflammatory, analgesic, sedative, antispasmodic, mucolytic, antibacterial, immunostimulant, memory enhancing, uplifting.