BURSAGE SLIMLEAF (Ambrosia confertiflora)
By Clare Licher
Last Summer Max took a trip with the Sky Island Alliance to help assess the health of springs and their plants, in the mountain ranges of Southern Arizona.  One of the other botanists is a native of Northern Mexico, and she spoke with Max about some of the traditional uses of Slimleaf Ragweed and Arizona Everlasting (Pseudognaphalium leucocephalum).  Both of these plants have aromatic leaves, and this inspired our next two distillation experiments.
Most of us associate Ragweeds with allergies, due to their pollen, but they have a surprising number of health benefits. Ambrosia conferitflora grows in abundance in the Sedona area.  Collection took place before flowering, as the consequences of the pollen can indeed be severe.  It is tempting to distill the plants that grow on the edges of gardens because of their robust appearance, but the smaller plants that fend for themselves in open fields have a better yield of oil, with more aromatic complexity.  The yield varies between .07% and .32%.  The aroma is dry and herbaceous, with a minor amount of sweetness that is more earthy than floral..  As the aroma dissipates, many delicate aromatic notes arise. Smelling the oil undiluted can activate sensation in the stomach.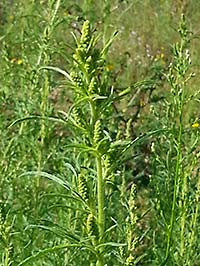 Several species of Ambrosia were used by native peoples.  Infusions were used for intestinal pain and cramps, and interestingly, for both diarrhea and constipation.  Infusions were also given to women during difficult labor, and to facilitate delivery of the placenta after childbirth.  Poultices were used for sore eyes and aching joints, and the crushed leaves were used to relieve insect bites and hives.
In the process of writing this, I developed stomach/ intestinal cramps.  This something that I rarely experience, but frequently when I am writing about a plant and it's essential oil, a situation will arise that will allow me to test it!  The pain went on for the better portion of the day before I realized that I was being given an opportunity.  So I finally used one drop mixed in a small amount of Aloe vera gelly, and applied it topically over my stomach.  The initial sensation was a feeling of nausea, and I thought, "Well, that was a mistake!"  But within about 2- 3 minutes, the nausea subsided and the cramps were gone.  I was not troubled with the pains again.
An in vitro study of 9 medicinal plants, based on their uses by indigenous peoples of Sonora, Mexico, was published in 2013.  The purpose of the study was to show their effect on Mycobacterium tuberculosis.  Dichloromethane, chloroform and ethyl acetate extractions of the plants were used.  Of the 9 plants, Ambrosia confertiflora had the least recorded traditional usage for Tuberculosis, but the extractions actually showed the highest level of antimycobacterial activity.
There is much to learn about this plant and its essential oil. The oil is powerful, and since its therapeutic effects have not been researched, it is for external use only.
References
Moerman, Daniel.  Native American Medicinal Plants, an Ethnobotanical Dictionary.  Timber Press, Portland, OR
2009
Robles-Zepeda Ramon Enrique, Coronado-Aceves Enrique Wencesiao,  Velasquez-Contreras Carlos Arturo,  Ruiz-Bustos Eduardo,  Navarro-Navarro Moises,  Garibay-Escobar Adriana.  In vitro anti-mycobacterial activity of nine medicinal plants used by ethnic groups in Sonora, Mexico. 
BioMed Central, Complimentary and Alternative Medicine
2013 13:329