Winter Solstice 2016 announcing 8 new essential oils!
Dear Friends and Family,
We are happy to announce 8 new essential oils to our collection! These are the results of some of our experiments from this past Fall and Summer. We have two new co-distills, Chaparral / Pinyon Pine and Yerba Santa / Pinyon Pine, Bursage, Goldenbush, Mohave Rabbitbrush, Arizona Cypress, Italian Cypress and Calabrian Pine.

We also wanted to update you that our Blue Spruce, Mexican Arnica, Rabbitbrush var. hololeuca, and Common Juniper are all back in stock.
"Christmas Tree" Gift Set - $45.00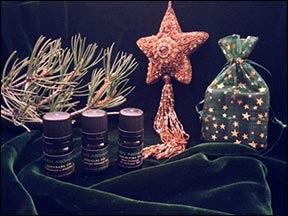 Every year after the holiday season is over, it occurs to me that I could have offered a holiday gift set. This year we have finally gotten one together!

There are three oils that people consistently say reminds them of Christmas. They are the fir oils. Subalpine fir contains the aroma of the entire forest. It is coniferous, mossy and sweet. Arizona Corkbark fir is a variety of Subalpine fir, that is aromatically a little less mossy and a little more sweet. Douglas fir is especially reminiscent of Christmas with its tangerine top note.We'd like to offer a 5ml bottle of each of these 3 oils for $45.00 (a 35% discount).

"Christmas Tree" gift set $45. First Class shipping included. Additional shipping is required for international orders. Offer good until December 31st, 2016 or while supplies last.
We hope you all have a wonderful Holiday season!

Clare and Max Licher