Aromatherapy Newsletter: Fall 2018
Fall Harvest News, 2018
Conyza canadensis
We are happy to announce a new oil, and just in time for cold and flu season!  Conyza Canadensis is also known by many other names such as, Canadian Fleabane, Erigeron, Canadian Horseweed, or simply Horseweed.  It ranges across most of Canada and the entire US, and has numerous historical herbal uses.  It is a panacea plant that was commonly employed for coughs, fever, sore throat, nasal congestion, earaches and rhinitis.  It has also been used as an analgesic for headache, backache, joint pain, sprains and trauma.  Other traditional uses were as a gastrointestinal aid for diarrhea and stomachache, and as a dermatological aid for acne, sunburn and lightening of 'age' or 'liver' spots.  Current scientific studies have examined Conyza's potential for use against melanoma cells.  Our GC/MS report showed it to be 84% limonene, which is close to the amount found in a citrus peel oil.  The aroma however, is quite different.  It is complex, with resinous, earthy base notes and a mild sweet anise middle note.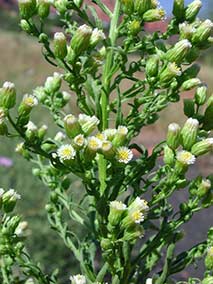 My Father and I recently took some Conyza oil with us on a plant collecting trip to the Kaibab Plateau.  We worked long hours in the cold, and my hands and left shoulder started to get very warm and ache.  My Father mentioned that his hands were aching as well.  I diluted the oil in some Aloe Vera gelly and we both applied it to our hands, and I to my shoulder, after we finished working.  We were both very happy with the quick relief that we experienced, and neither of us had any residual soreness!
Purchase Conyza Canadensis Essential Oil here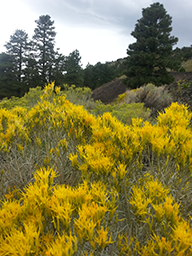 Rabbitbrush
SALE! Rabbitbrush var oreophila 25% off, from now until Thanksgiving
In the last couple of weeks we were able to replenish our stock of Rabbitbrush var. hololeuca and Rabbitbrush var oreophila. I have re-fallen in love with the Rabbitbrushes! They are quite beautiful and brighten up the Autumn landscape with their coverings of uplifting yellow flowers. They have very complex chemistries, which are quite different from each other, even though they sometimes grow side by side. The var. hololeuca has both geranyl and citranellyl acetates, and it is aromatically extra sweet this year with it's fruity top notes. It is a wonderful digestive aid, pain reliever and anti microbial. The var oreophila has dill and turmeric notes and is also a great digestive aid – just in time for Thanksgiving! It also has potent anti fungal and immune supportive qualities, with high levels of b-phellandrene and limonene. It gave us a more generous yield this year and we would like to pass that on to you with a sale of 25% off.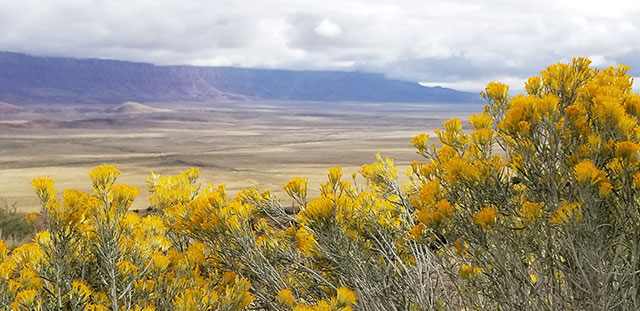 Rabbitbrush at the Vermilion Cliffs
---
Inventory Updates:
We were also able get many other oils back in stock the past couple of months. A small amount of wild Bergamot Mint is available again, as well as the Yerba Santa/Pinyon Pine co-distill, Mexican Arnica, Cleveland Sage, Fresh Green Pinyon Pine Cone and Bursage. Blue Spruce has been distilled, is maturing, and will be ready in another month or so.
We are sorry to say that both Desert Lavender and Snakeweed were hard hit by last year's drought, and we felt it best to leave the plants be. We may yet be able to do a small distillation of Snakeweed because of the recent rains, but Desert Lavender will have to wait until the Spring.
---
Upcoming Aromatherapy Workshop
Sedona Retreat!
May 19th – 24th, 2019
We will be partnering with the New York Institute of Aromatic Studies for our 4th annual Sedona Retreat, from May 19th – 24th, 2019.  It has been a pleasure and an honor to work Amy Galper and Jade Shutes to provide this retreat.  We have had wonderful groups of people and fantastic experiences each year.  This year we will have the award winning El Portal Inn, for our accommodations, which is in walking distance to great restaurants, shopping and even PhiBee Aromatics distillery!
About our Workshops
We offer public and private events, ranging from 1/2 day presentations, up to 4 day hands-on distillation workshops.
Private events can be tailored to meet the particular interests of your group or organization.
We also offer weekend apprenticeships.
Please contact us for more information!